Talent Coaching by Courtney
Personalized, Individual Lessons!
Tips for Being a Good Industry Parent:
I have been thinking about this topic for awhile now, and while I am currently on Maternity Leave, I thought while the little one naps, I could throw some light on this topic.
First off, I used the term Industry "Parent" because dads, now more than ever, are getting involved in their kids' careers and that is such an AWESOME thing! My husband loves taking our kids to set, and being a part of what they love so much...PLUS it makes him feel like he is a part of this whole crazy experience. He is so much help, and even though this is my area of expertise, we always sit down together to discuss our kids' careers, we are a TEAM. Not my husband and my daughters manager chat like a bunch of school girls on the phone, so I let him be the phone contact for LA.
Being a good industry parent is HARD. Like getting a newborn on a sleep schedule hard. There are no rules or directions, sometimes we just jump and pray there's something to catch our fall. In my line of work, I have encountered all types of parents. Laid back, high strung, catty, helpful...you name it... So I've come up with some helpful tips, read them below, and yes there's a ton of them... ENJOY
Keep your kids sizes, photos, info, and education CURRENT: When I was an agent, it really stressed me out that parents didn't keep these things current. If you are making the commitment to have your child in this industry, then you have to do your part. Kids should be shot at least ONCE a year, with a professional head shot photographer. Also update your agent monthly with sizes, height, weight, and any changes that may take place (teeth, hair, etc). They cannot book your kids without CURRENT information!
Also, if you are serious about having your kids in the business and are 7+ years of age, they need to be actively training. It's a very competitive business, do your kids a favor and keep them constantly learning and growing.
Don't Be Sloppy: I use the word sloppy, because quite frankly, any other word will come off too harsh. This one can also be summed up to: BE KIND, and keep your mouth from running too much. Don't brag about your kids and everything they've done, it's rude. If it's a private conversation, and someone ASKS, that's different, but if not, be humble. You are no better than anyone else there. Your child's resume speaks for itself, you don't have to broadcast it. 
Also, be VERY careful who and what you talk about onset, or at auditions. This summer when my daughter was shooting a film, one of the extras moms was talking very badly about her and was sitting right next to my husband, who promptly shut it down, and had he wanted to, could have gotten the mom and her child kicked off set. FYI, after my hubby chatted with the producer the extra was not asked to return again. How sad for her child. Sadly, I have witnessed and heard so many instances of industry parents bullying other parents, and even the kids. Super uncool, and it just makes you look envious and ugly. What you talk about to your friends in private is one thing, but you have to be very careful. It's a really small world and word gets around fast.
Make Sure Your Child is Driving the Car: OK, so not literally, but figuratively, yes. Too often in my line of work I see that it's the parents who want this and not the child. Your child must be passionate about this, or it will not work. These are long days, with infinite takes, in the heat or cold, with major sacrifice. Kids sacrifice social lives, sports, birthday parties, field trips and so much more. Make sure they want it. You will know, and unfortunately, or fortunately, so will everyone else involved.
Keep Your Kids Humble and Grounded: So I've already asked you to be all these things, make sure it extends to your child also. Teach them to be kind to everyone onset. Use manners, say please and thank you. These things count. The only thing worse than hearing a parent being nasty or bragging, is having the child do it. Make sure you tell your children to speak kindly, and to be courteous. Remind them that they are blessed with an opportunity, and that every single person there is working hard to make this happen, and everyone should be treated with respect.
Learn Everything You Can: Ask questions of other parents, read books, talk to your agent, ask your child's coach or teacher any questions you may have. Never stop learning. THERE IS POWER IN KNOWLEDGE. If you don't know, ask!
Be Patient: Opportunities will come and go. Be patient. I know how hard it is, TRUST ME, I struggle with this myself, but the right opportunities will come. DON'T GIVE UP!
It's also super important to be loyal. If your agent, manager, and/or acting coach is working hard for you, don't jump ship. Form a great team/partnership, this is so pertinent to getting through this crazy ride! Build a good team, and stay with it!
SUPPORT ONE ANOTHER: There is enough work to go around. Be happy and support each other. Cheer each other on and share advice! Having as many advocates as you can is so important. I have met some amazing moms, who remain my friends to this day. These ladies understand my frustrations, we celebrate our kids bookings, we lament over tough breaks, and just bring sanity to an otherwise insane industry! These are great allies to have as they completely understand things most other people cannot.
I hope these tips helped! Feel free to leave any questions or comments below.
XOXO,
Courtney
Is This Agency Legit? How to Tell...
I am so grateful that one of my students' moms brought this topic to my attention, and slightly ashamed I haven't thought of it before. Nothing boils my blood like watching innocent, but unknowing, newbies spend unnecessarily when it comes to finding representation. 
Below, I have listed some tell-tale signs of how to spot the good from the bad, and if you are EVER in doubt, PLEASE ask me! 
#1) RESEARCH, RESEARCH, RESEARCH: This seems too easy, right? Research goes a LONG way, and with this age of technology, everything is posted on the internet. Google the agency or agent in question, you can even follow it up with the word "reviews" and see what pops up. Take the reports listed into consideration. MOST of the time these are not just jaded people, but people trying to prevent YOU from being the next target. 
Google, Facebook, Better Business Bureau... these are all really great resources that you literally have right at your fingertips.
Another GREAT source are your industry contacts. Friends/other parents in the industry are amazing, they have knowledge and have been thru it already, they may be able to point you in the right direction. Also, the information you can get from an acting coach or teacher is priceless... not only are we familiar (or absolutely SHOULD be) with the agents in our territory, but we will know the best fit for YOU specifically. I make it my up-most priority to be familiar with the agents in my area, and to touch base with many of them on a regular basis to find out what their currently looking for to ensure my students find the BEST representation.
#2) Most "Scouts" are not legit: Have you ever been at the mall or some other such place and someone stops you and says you should model and hands you a card? Yeah... me too... these are 9/10 times a scam. They want you to come in and take classes or pay for photos and you never see one audition or job. Take the card, sign up for NOTHING. Head home and again, RESEARCH. 
Same concept for the ads you hear about on the radio to be the next Disney Star! These are a waste of time and money, when honestly, you can may get seen by an agent, and get signed, but you will pay a couple grand to do so. If you are really interested in finding an agent, all you have to do is get some great head-shots taken, and email or send them in, saving you hundreds, if not thousands of dollars.
#3) Agents never ask for money upfront:  Agents never request money upfront for representation. they only get paid, if YOU get paid. 20% for non union jobs, or 10% for union jobs. POINT. BLANK. PERIOD. 
#4) They do not ask you to shoot with their photographers or take classes at a certain school: Seems like one of the oldest tricks in the book, and though it is completely ILLEGAL in the state of Florida many "agents" are finding a way around this rule. An agency should never ask you to shoot with their photographers or push you to take classes at a certain place. EVER. Now, an agent may offer a recommendation on either of these 2, if asked, but they should always respect that ultimately it is your choice who you shoot with or where you elect to study your craft.
#5) You've Submitted to THEM: If you've done your homework, you've probably found a few agencies that look great and if you've submitted to them, it's usually a safe bet that they are a legit agency. Always keep the previous 4 bullet points in mind when meeting or speaking to an agency though, just in case... and when in doubt ASK ME!
Thanks for reading, if you have any questions about any of these, or need help finding great representation, please let me know!
XOXO,
Courtney
                   To List or Multi-list? That is the Question:
I come across this question all the time. This is an age old question, that everyone seems to have an opinion on. I, am no different. My students often come to me saying. "Don't I want as many people as possible finding me work?" Time and time again my answer is, "No." I am aware that this answer and BLOG may make me extremely unpopular, but it's been on my heart, so here goes...
You'll Tick People Off: So you're new to the industry, and you submitted to every agency in town, and now you have 6 agents, it seems like a dream come true, only, sadly, this will work against you. The Central Florida market is a small, but thriving market. A majority of agency castings come from 3-4 casting directors in the area. They reach out to most agencies here in Central Florida for castings, so essentially many agencies are all receiving the same castings.
This leaves you in the predicament of accepting the casting from 1 agent, but turning down 5 others. When agents call for you, and you've already been called, they get annoyed pretty fast, and soon you could find yourself down a multitude of those agents, and perhaps maybe even all of them. Agents do not like to feel like they have to rush to the phone at 6 am when the casting comes in to get you, they like to know that they can call at 9 am when they get to the office, and have coffee in hand, to give you the time slot they have already saved for you.
In my humble opinion, it's better to have ONE go to agent, per genre, (I will explain this further later) in Central Florida. As long as you can trust that this agent is sending you, or your child on every casting that comes in that fits, you are more than covered. 
Keeping Track STINKS: When you are super multi-listed it's really hard to keep track of things, from who sent you or your child to the casting, keeping all your websites and agency accounts up to date, and most importantly, keeping track of your conflicts, book-out dates, and upcoming jobs and auditions. This can all get so messy! I have heard horror stories of booking conflicts. You book Pepsi and another agent books you on Coke and says, "I think it's fine..." you take the booking and the next thing you know you're in trouble. When you are booking everything thru one agent, it keeps too many hands from muddying the water. Your agent will be completely up to date on all your contracts and conflicts... and you can breathe a lot easier.
You'll Come Back to the core Eventually: Eventually you streamline. You will find an agent you LOVE and you will stick with them. It's better just to start that way from day one to avoid the stress it will cause you. Most successful actors I know, have one CORE agent for bookings, and MOST of them also did things the hard way first. To me it compares to a romantic relationship... You may start off dating multiple people, but you can't sustain it. You eventually settle on the best choice for you, someone who you have the best chemistry with. Avoid the headache and start with one!
Loyalty Goes  Really Far: I find complete joy in knowing that my agent will call with something that I, or my child is right for. I know I am not going to have to make anyone upset, I know she has saved me a slot, and she knows and trusts US that we have her back. When you are loyal to an agent, you get A LOT more in return. They are willing to put more on the line for you, they take time to help you grow by offering tips and suggestions, and they will LISTEN to you, because they KNOW you. You can also make good decisions together as a team. If an agent feels like you are loyal, most of the time they will go above and beyond for you. Relationships like this, make us all SUPER happy.
There ARE times it's OK to multi-list and I will list them below:
1. You are at a weird age range... Those tween to early 20 somethings, often multi-list because it's a really rough range. I don't blame them. Sometimes you only get a couple slots and this age range can be very competitive.
2. You've gone 6+ months without an audition... At this point, BEFORE seeking representation elsewhere, contact your agent. Request a meeting or a phone call, to see what's going on, but ALWAYS give them a chance to defend why they haven't called. You all may come to an agreement, or part ways, or come back closer than ever, no matter what the outcome, give them a chance to explain.
3. You have Representation for different things: My daughter has one commercial agent, an agent that reps her for print and private clients ONLY, and ONE TV & Film agency. This has worked out for us amazingly well! I wish I would have thought of it sooner... it could have saved some heartache, and sleepless nights. All these agents know where they stand and it keeps things easy breezy, for everyone!
I will also add, that Multi-listing works well for some people, so if for YOU it ain't broke, don't fix it... ;)
If you have any questions, please feel free to comment below...
Thanks for reading! 
Happy Season!
XOXO,
Courtney
So, I like many, many people I know, am completely obsessed with the show ORANGE IS THE NEW BLACK. I mean, amazeballs, amirite?! I literally watched 3 Seasons in like two weeks, and with as busy as I am, that should tell you something... I may or may not have stayed up many nights until 5:00 a.m. awaiting the fate of "Pilex"...is that a thing?! 
I just wrapped up Season 3 last night, and as I was walking home from walking my mini-me to school, I got thinking about how may similarities I found between the Entertainment Industry and being in prison...I know, I know, weird right? Hear me out. I mean we basically spend our time being shuffled around in long lines, by people who barely know we exist, working crazy long, hard hours, surviving off of ramen and snicker bars, only to be insane enough to do it again because it's what we know. Getting those jobs is a "high" and secretly, it's our comfort zone. The GIF below, is basically our normal, and we LOVE it.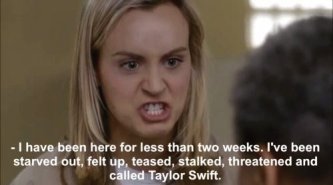 Here are a few tips on how to use the girls of Litchfield Prison as inspiration for your career.
If you adore the show you may just get a kick out of this blog!
Spread Kindess, like Norma:
So Norma doesn't talk, yes I know, but Norma is all about spreading KINDNESS, even when her hateful meth-head trolls are nasty, excluding, horrible gals. She shows that note book page that says, KINDNESS, and we should follow her example. 
Treat everyone with kindness. Every person you met in the industry should be shown respect and kindness. The audition monitors, your agent, the casting director, fellow actors, wardrobe, the sound people mic-ing ( I think I just made up that word) you up. EVERYONE. I have seen many instances where people forget their manners, and it's ugly... like Pensatucky before she got new teeth, ugly.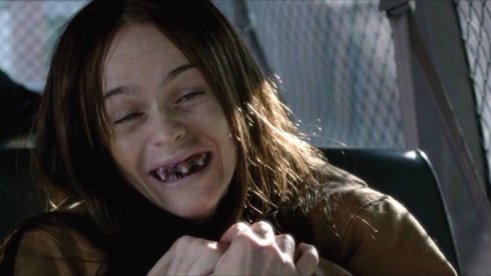 You can also take a page in Norma's book and think twice before you speak. I mean, I know she's a mute, but she definitely has to think twice before she writes anything down, and usually when she does, it's always positive. My Mama always taught me to THINK before I speak. Is it True? Is it Helpful? Is it Inspiring? Is it Necessary? Is it Kind? Be the kind of talent or parent that people want to work with. No one likes a Negative Nancy... or LeAnne. 
Don't be a Follower, Like So-So: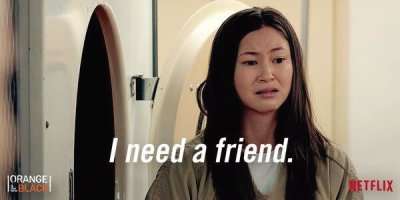 Poor So-So, all she ever wanted was a friend and to feel welcome and wanted, but she refused to give up who she was in order to do so. It took her to the edge, but in the end she stayed true to herself and found where she belonged.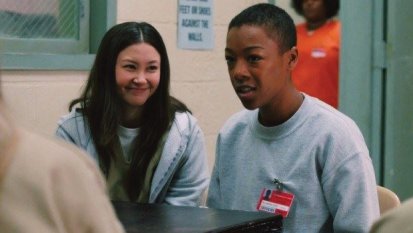 Stay true to yourself, as a talent and person. Don't compromise your morals or sense of self to fit in. Find people who love and accept you. Sometimes those people are the last people you would imagine forming a bond with... a la Boo and Pensa, but it can be an amazing thing!
You don't have to be with the agent everyone is dying to get in with, or the coach that has the longest waiting list. Find YOUR people. People willing to listen to you, and guide you, and who truly CARE about you. Find where you fit in. Maybe it is the people mentioned above, or maybe it's the boutique agent owner who treats their talent like family, who knows you and you by name and knows your situation, or the coach who is damn good, but works out their home to keep family first, and is always available to guide you, (shameless plug). Either way, find the people who make you happy, and who you enjoy working with. This industry is a crazy ride, enjoy your passengers! 
Don't Break under Stress, Like Red: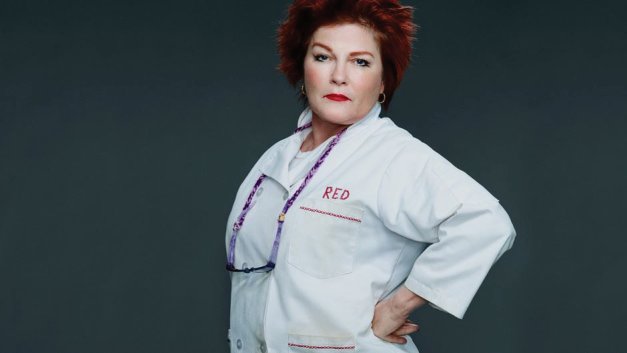 Freakin' Red. She is the personification of strength. While everyone else falls apart around her, Red prevails and gets stronger everyday. Here is a woman who got beat down with a slock, lost her deli, got booted from the kitchen, was turned into a pariah, and STILL manages to come out on top.
The girls always talk about how prison exposes you. It strips you of everything you know and shows you your inner self. In many ways, this industry is the SAME way. Who do you become under pressure? Who are you when all the layers are stripped away? We watch Piper turn into a empty, self absorbed, co-dependent pantie selling "Kingpin" and you find yourself hating her. Gloria goes crazy from not being able to see her son, and look what she ended up doing to poor Sophia!
Do not let the nature of this industry turn you into someone you are not. Let the stress, pressure, and often times rejection turn you into a diamond, a survivor, a RED. 
Last, but not least, LOOK DAMN GOOD! 
These girls taught us, that even being in prison, you can always look your best! 
Make sure you do your best to keep your look fresh! Get new photos often, make sure your roots are done, your teeth are white, and that you are dressed for success! If these women can do it in prison, we ave NO excuses!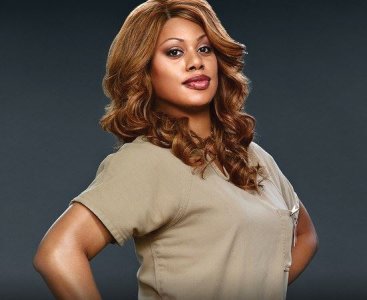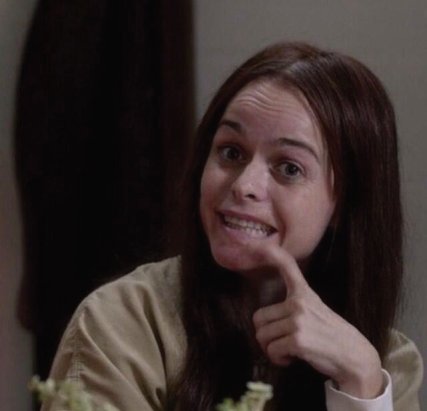 Thank you all for reading this blog. I had so much fun writing it. Feel free to comment, like, and share... and don't forget Season 4 comes out June 17th...BINGEWATCH, anyone?
XOXO,
Courtney
Hey All!
For those of you who like to watch VLOGS, here are some Audition Pointers in
VLOG
form. Be kind, I prefer to write!
Just click the link, and enjoy. Feel free to comment, like, or share!
Have a blessed day everyone!
XOXO,
Courtney
How to Prepare for a Commercial Audition:
I did a blog awhile ago on General Audition Pointers, you can see that
here
, but  
this
  blog is designed to help you create a process that can make your auditions SUPER successful, and will help keep your agents/managers very happy. 
OBLIGATORY BLANKET STATEMENT: Schedule a lesson with your Acting Coach! They can help you break down the storyboard, go over lines with you, or even help to come up with improv simulations that are similar to what may be asked of you. CONFIDENCE comes with PREPARATION! You can schedule your lesson with me
here
.
Now that we have that out of the way...Once you get your breakdown you need to look closely at it, I prefer to print mine out, something about it being tangible in my hand, where I can actually hold it and highlight dates, and important details, just feels right, but you don't have to, if you work better on a PC or your phone that fine.
First, check all the dates and make sure you are available for all of them. Casting date, callbacks, fittings, possible shoot dates, you should make sure you have NO conflicts, if you do have a conflict you need to let your agent know right away and let them make the final decision on whether or not to send you. If you are not available for all dates your agent may want to send someone who is, so as to increase their chances of a booking, it's nothing personal.
After you check all dates, check for conflicts. Conflicts can be really tricky, and if you are multi-listed they can go unseen, so it's really important you are on the ball. If they are asking for someone who has not done a healthcare ad within the past year and 3 months ago you shot for a rival healthcare provider, you should not attend the audition. If you are in doubt, PLEASE ask your agent. You may get asked on camera about your conflicts, or worse, get booked, and then be held legally responsible. Always, Always, Always check your conflicts! Some good examples of conflicts would be (Coke & Pepsi, Competing Healthcare providers, which could be insurance, physician groups, and hospitals, Disney & Universal, Cable/Internet Providers…etc.)
Next, take a look at the details of the rate and usage. If you need some insight into some of these terms you can check that out
here
. Make sure that the rate and usage is fair and something you are willing to work with. Be reasonable while considering this, if your agent has sent it to you, they obviously think it's a good fit. Also check out if you are being asked to be exclusive for this brand or not (usually it's just for a period of 1-3 years), but this is vital information. Many times it will be used in perpetuity, which means they can use it forever, BUT you are free to shoot with competitors.
Now, take a look at your character breakdown. Try to find out everything you can about your character. There usually is a brief synopsis included, also look at the storyboard if it is included.  Try to dress as similar as you can to the character type. This is SO important! I used to get so much feedback from Casting Directors, when I was an agent on how talent would come dressed. If you are supposed to be a theme park mom, dress like a theme park mom: bermudas, capris, and a nice shirt, sandals and tennis shoes, are great ideas. If you are going for a part of a nurse or doctor, do your best, you don't want to get a full Halloween costume, but do you have a friend who has scrubs? Or a lab coat? Do your best, and remember to dress true to your character, but don't do overboard.
MAKE SURE KIDS LOOK LIKE KIDS! No makeup, no crazy hair bows or dressy dresses! Clothing for kids (unless otherwise noted) should be cute casual. These are not fashion auditions. Cute shorts, plain tops, casual, cotton dresses, leggings, converse, sandals, these are all good options.
Lastly, make sure that you are prepared! Have at least 3 copies of your headshot and resume on hand at all times. I always tell my talent to have these in a folder and keep them in your car, that way you always have them, if needed. Make sure you are up to date on whatever casting site is being used, this means your resume too! They need to see all current conflicts. If there are lines, these need to be rehearsed and memorized.
Please feel free to contact me with any questions you may have regarding the audition process! I can always help with preparation as well!
Happy Auditioning and Break a Leg!
XOXO,
Courtney
Industry Tips 101
Being in the industry for as long as I can remember, I have come across all kinds of behaviors.  The Good, The Bad and The Ugly… I put together a little list of really simple little tips to help insure that you remain on your best behavior, in an industry that can be known for its Divas…
Never ask an agency or teacher their opinion on their competition: Like EVER…. I would never go into AT&T and ask them what they think of Verizon. It's unprofessional.  It blows my mind when people say. "What do you think of such and such a teacher or class?" Know this, any self-respecting, professional teacher or agent, is going to politely decline to answer. BE AWARE of anyone who is willing to talk negatively about anyone, even their competition.
Don't Be a Sheep: Once you get started into the industry it can be SO tempting to jump onboard with the classes or agencies that everyone else is with.  Just remember above all, to do what is right for YOU. Boutique agencies and private acting coaches may get overlooked. Here's a tip, look at their track record. Look at what they are booking or what their students are booking. Take the time to talk with any agencies or instructors you may be interested in. Ask questions. Find the approach and the people who work for you. It may not be who everyone else is with, but that could, in the end, work out in your favor.
Listen to GOOD Advice: This industry can be a maze, with an obstacle around every corner. If and when you take the time to seek out advice from industry professionals, listen to it. Your agent, acting coach, a trusted industry veteran, these are all great people to ask for advice, and when you get it, try your best to follow it. All of these people have your best interest at heart when it comes to headshots, resumes, casting advice, career direction, etc.
Be Patient: Rome wasn't built in a day, and neither is your career. Patience is a virtue. It can be hard to be still, but sometimes you have to. Trust that your agent is working for you, and check in with them from time to time to stay fresh in their minds. A great way would be to send your sizes, a few candid photos and an updated resume.
Also, give your Acting Class or Coach time. Depending on your skill set, and sometimes, just sheer luck, you may book the first thing you audition for, and sometimes you have to go to 20 auditions before you book one. Just remain patient. If you are a serious actor, you should be working with a coach constantly. There are no set amount of weeks or months to success, only hard work, drive, and dedication.
BE KIND: You never know who you will meet and what position you might find them in one day…true story.
Say Thank-you and Be Grateful: There are many people that help to make an actor's career possible. Agents, Casting Directors, Acting Coaches, AD'S, PA's, Wardrobe, Photographers…. All of these people work their humps off for you… Say Thank you! Write a kind word, send them a gift card for a cup of coffee, or bring them their favorite treat. It shows you care.
Thank you all for reading, as always, please feel free to leave a comment or share this blog with anyone who may benefit. You can also check out tips for how to make your agent love you
here
and
here
.
XOXO,
Courtney 
What Makes a Great Headshot?
Right after talent, headshots and resumes are at the top of the list for what can get you booked on a job. If you want tips on a great resume, check those out
here
.
I cannot stress enough the importance of a great headshot. In this day and age when many clients can choose what talent they want to have audition, or even better, what talent they want to book, right over the internet, you must have a great headshot to remain competitive. This is non-negotiable. Yes, professional headshots are pricy, but in the end they are worth every penny.
"Courtney" you ask, "What makes a great headshot?" Well my friends… the answers are simple, clear, and listed below:
1. Use a Professional Commercial Photographer: Please, for everyone's sake use a professional commercial photographer. If you don't, you are wasting time and money. When or if you get picked up by an agent, they are most likely going to ask you to re-shoot. So it helps to do it right the first time. This does not mean someone who shoots weddings, a friend of a friend who does photos, or Uncle Joe who has a fancy new camera and takes great pictures of flowers. This means an agent or acting coach recommended photographer.  If you need recommendations, please feel free to
email me
.
2. Always get the Hair and Makeup Artist: This is vital. Otherwise you can spend a ton of money, and be really unhappy with your pictures. The Hair/MUA is there to help you look your best. They know how to do your makeup so the camera does not wash you out, and to make your features "pop". They are also there to ensure that if in between takes your hair gets crazy or lipstick gets on your teeth, that you get fixed up in a jiffy. Yes, the cost is a bit more, the great ones usually charge anywhere from $100-$150 for the shoot, but their work is priceless.
3. Make Sure Your Headshots Look Like YOU: This is probably the most important tip on this blog. It's great that you listened to me, and hired the Hair and Makeup Artist, but now make sure that said artist is staying true to your look and who you are. Explain to them how you normally do your makeup and hair so they can just exaggerate it a bit for the camera. Make sure that whatever look they give you, you can recreate on your audition day. Your headshot should look like you on good day, not "Who the heck is that supermodel?" Unless you are a supermodel… then you're fine.
4. Look Your Best: Roots done, Hair-cut, Teeth whitened, Weight Lost, Skin Clear… you get the picture. Photos are expensive. Don't waste time and money if these things are not in tip top shape. Clients will notice. As a consumer yourself, you would pick up the product with the pristine packaging, not the banged up box with holes. The same can be said for clients, if you two inch roots or your skin is looking a hot mess, they may pass you by.
5. No Gimmicks: Steer clear of hats, sunglasses, cheesy backgrounds, gaudy jewelry, cleavage (anything more than church cleavage is too much), loud patterns, anything that takes focus from your face.
6. Update Your Headshots Regularly: This also refers back to #4. To ensure the client is always getting the best photo of you and your current look, make sure you are updating them on a regular basis. Kids change FAST, you cannot expect an agent to book your child with a shot that's more than a year old. Teeth change, hair changes, faces mature and they grow more than you will notice. It's not a popular notion, but kids' photos need to be done yearly. 
Adults can usually go 2 years, if nothing changes drastically in their look. Keeping your agent stocked with your best, newest shots will help them be able to book you, or get you on auditions more often.
Again, your headshots must look like YOU. Be honest with yourself on this. The last thing you want is to show up on the set of a direct booking and have the director and client be surprised. It will be an awkward situation for everyone, and could cost you the booking.
7. Dress: Bring LOTS of wardrobe options for your photographer. Bright colors (no neon), muted colors (grey, tan, green), small patterns, black and white (contrary to popular belief), jackets, blouses, dresses, assorted necklines, and small accessories, are all great options. Bring clothes that are flattering to your figure and are age appropriate. 
Do your research beforehand, and know the kinds of roles you are going to be considered for (i.e. mom, dad, business woman, character roles, etc.) This will help your photographer pick out the best options for you, and if you are unsure, talk to your agent or a coach before getting headshots done.
Make sure above all else, you are working with someone who you like and who makes you feel comfortable. Someone you trust to tell you if something is not your color, or if you have a bad angle. I have a few examples of great headshots below for consideration. If you need recommendations, I would be more than happy to help.
Happy Shooting!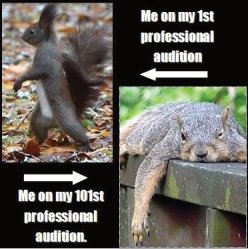 It's Audition Pointers, Ya'll!







First of all, can we discuss the photo to the left? It seriously made me laugh out loud. That squirrel looks exactly how so many of us feel! This adorable and extremely accurate photo really got me thinking.. how can we make auditions EASIER???? I mean, granted, there is only so much we can do as actors, (you never know what the Casting Director might throw at you... see #5), but when asked by my students to help them adequately prepare for auditions, I always run them from the 5 steps below. 







Auditioning well is something A LOT of actors struggle with. If you have never struggled with an audition consider yourself blessed and then bottle and sell your confidence to the rest of us! For those of us who made need a bit of guidance, feel free to check out some great tips! 







#1)Be Prepared: No people, this is not just a song from The Lion King... it's a way of life for an actor. You would not go into a test and not study, or run a marathon without months of practice. The same thing applies to auditions. Make sure you read the breakdown and make sure you are available for ALL the dates listed by your agent... SO Important! After that print out the breakdown and highlight important dates and notes from the CD or agent. Do you need head shots and resumes? How many? Do you need to fill out an audition form? Are you up on the Casting Sites the agent has specified for the audition?  Always make sure your head shot and resume is stapled together BEFORE you get to the audition and any paperwork filled out prior. Never ask to borrow a pen or stapler at the Casting Directors office. These things are crucial and can make or break your reputation with the Casting Director. They see hundreds of people in a day... make their job easier.







A huge part of being prepared means reading the story board, if attached... Do you have lines? Is there a brief description of your character and what you may be doing at the audition? Call your acting coach! Get in for a lesson and have them run your lines, or improv situations with you! It can make a HUGE difference in your audition and boost your confidence, and better confidence means better auditions!







#2) Be on time: Always... and by on time, I mean 10 minutes early. Anything sooner than that is too soon, and anything later is considered late. No excuses... believe me,  I know time is precious and auditions have to be squeezed in, but even if you arrive early and have to sit in the parking lot and run lines, or mentally prepare yourself for your audition, pray, meditate, whatever, just allow yourself plenty of time!







#3) Dress Accordingly:

Casting Directors often include a description of how they may want the character to dress, and do what you can to accommodate this request. Is your character running? Wear nice workout clothes with your hair up. A doctor? See if you can borrow a lab coat from a friend. A parent? Wear quintessential parent clothes...

google

images if you must or check out the breakdowns that are so often attached and wear something similar to what the characters are wearing. 







When I was an agent, I once got a call from a Casting Director who was LIVID at how the actors were showing up. The casting was for a woman at home in her pajamas, relaxing and watching scary movies. The CD called up and vented to me, "You'll never believe how these girls are showing up! Full hair and make-up, dangly earrings, looking like they're ready for a night club! Not YOUR girls of course... thank you for taking the time explain to your talent to dress accordingly!" Boy was I happy I took the time to read the details and make sure my talent was on point! 







#4) Auditions are not the place to make friends: OK so there are tons of great places to meet friends, work, the gym, school, sporting events, but NOT at an audition. When you are auditioning you should be going in with one goal... to book the role or get a callback. I always tell my students, when you are at an audition, you can be friendly, but do your best to look busy so people won't chat your ear off. These people are your competition. Do not let them psych you out by talking about all the roles they book, or let them distract you with conversation, when you could be mentally preparing or running lines. Be polite, and kind, but do what you can to keep your focus at any cost. Once you book the job, you can make as many friends on set, as you want.







#5)Like Nike says, JUST DO IT!: Audition like you MEAN it! Don't psych yourself out or get so nervous you forget what to say or do. BREATHE. REMEMBER that these people want you to be what they are looking for, so show them what can bring to the table. You also never know what the casting director may ask of you so expect the unexpected. I once had a student tell me, "I did my script just like we rehearsed... and then the director asked me to do it like I was on fire..." another student said, " My audition went great, but then the director asked me to do the whole script without using any words..." I am happy to report both students did it without a second thought. Auditions can and should be fun. It's a way of showcasing your ability, so go for it, don't hold back! Remember to have fun, and auditions can make great stories to tell your friends at parties! ;)







Audition Technique is something I offer and try to go over with students regularly. If you can use help with auditioning, please feel free to

contact

me. This can be a very beneficial skill to rehearse with a coach. I offer in person and Skype lessons. 







Happy Auditioning!







XOXO,







Courtney










Entertainment Industry Terminology: Because they don't teach you this in school...




 


OK, so now you or your child has signed with an agent and you're actually going on castings! Awesome! They only down side? All this crazy terminology they keep throwing your way! Just when you think you are starting to understand this industry they start saying things like SAG and 1st right or refusal (isn't that what your husband wanted when he asked you to marry him?)







I always tell my actors, never say a word if you don't know what it means, likewise before you sign a contract, or agree to a casting or job, it's an absolute MUST to know what you're getting into. Take a deep breath and check out some Industry Terminology 101 below, you can also feel free to email me anytime if you have a question about a term or phrase you have never heard before.







Union-

Also known as SAG-AFTRA, Screen Actors' Guild, or the Actors' Union. You must work a certain amount of SAG jobs, and pay a membership fee before you are eligible to join the union. If you are SAG you may not participate in Non-union commercial, television or film jobs. For more information on the Union or joining the Union you can look here

http://www.sagaftra.org/







Non Union- Simplified, not a member of SAG-AFTRA. When you are Non Union you may work on both Union and Non Union jobs. You will build up eligibility on every SAG job you work, but unless the job is specifically marked Union/SAG it is considered a Non Union Job.







Exclusive- This means you are held to only one Agent for the parameter set by the agency. It is important to know the area you are held to by the contract. Is it Central Florida? South Florida? Both? Make sure you do your research, and make sure the agency has plenty of clients for you to book with when signing exclusively.







Non Exclusive- You are free to sign with as many agencies as you like, and are able to book yourself on jobs. It is wise to limit yourself to 1-3 good, strong agencies when going non exclusive, too many agents will become cumbersome and loyalty speaks volumes in this industry.







Comp Pull/Picture Request/Headshot Submission- A client or Casting Director has requested to see pictures of you from your agent to see if they would like to book you or have you come in for an audition. This is every talent's best friend, it can lead to a direct booking or cut way down on the number of talent at an audition. Make sure you have good, competitive images and a strong resume to help your agent get you noticed on these!







Direct Booking- You are booked for a job right off of your photos! How awesome is that? Direct Bookings happen a lot, so it is important that you keep your photos up to date with your Agent. You must look exactly like your photos, if you don't this can make things very awkward. Keep those photos up to date!







Callback- You have already auditioned for the job and the client has narrowed it down to a few they would like to see again. These ROCK!







On Hold/First Right or Refusal- You have not yet been booked, but you are being asked to hold the shoot dates upon and not book anything else without notifying your agent. This is usually the last step before booking.







Booked- You have landed the job! Details will be sent to you as soon as they are received by your agency. Please be patient in waiting for details, often times the Agent will not get the details until the day before the shoot. You can however call your Acting Coach, so they can squeal in delight and brag on you! ;)







Released- The client is unable to use you for the job and you may now move forward with your regular schedule.







Availability Check- The client or your Agent is contacting you to see if you are available for a job on a certain date. This does not mean you are booked, but if you say yes, you are agreeing to keep your schedule free for the day or dates indicated. If something arises for the dates in question, you should contact your Agent immediately.







Conflicts- These are any jobs you may have done that would interfere with a new potential job. Most often it would be any competitors (i.e. Coke and Pepsi, Disney and Universal, etc.) Make sure you and your Agent are both up to date on your conflicts.







Usage- This entails what the material you shoot can and will be used for (print, commercial, billboard) and for how long. Keep in mind, the client may ask for a no compete (conflict) for a certain period of time, make sure you are well versed in what you are getting into. When in doubt ask your agent, or myself.




 


I hope this information was useful. Please feel free to pass it along to your friends, or to contact me at any time if you come across "things that makes you go hmmmmm..." (random 90's reference.) Have a spectacular weekend!

 





Happy Bookings!







XOXO, 




Courtney

0

/